The Work: Curator 'Visual Arts' and moderator for all participating Art institutes for the yearly festival in Rotterdam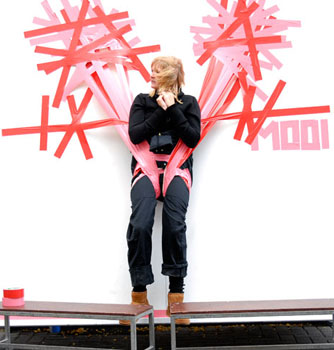 For the second time, and in name of Mothership, i had a great time coordinating the artprogram and curating several public art projects for the Wereld van Witte de Withfestival. The theme that year was 'There are limits' ('Er zijn grenzen')
/
Amongst the various projects were: Physics Distorter 1.3 by Jan van Nuenen bounced and shot ecstatic across the façade of the Witte de Withstraat. Watch video HERE
The ten barriers by Gijs van Bon at the Hartmanstraat moved to various rhythms like the legs of a dancer.
/
On the lawn across the building site of the Museumpark a series of films were shown, amongst which: "Rotterdam Heartcore" and "Baghdad Disco"by Arno Coenen; "The Very Best Tof" by Matthijs Vlot; "Echte Liefde" by the Humobisten and "Burning Car" by the Danish artist collective SUPERFLEX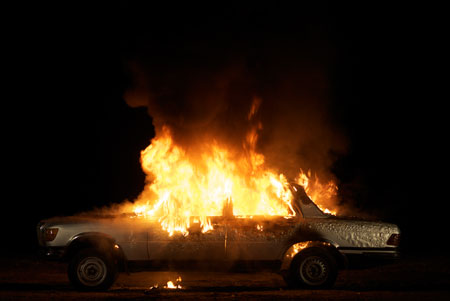 This year we took on the extra task of dressing up the festivalarea aka the street and visualizing the festivaltheme "there are limits!". Together with artist Dstruct, we created twelve beacons, 6 meter tall each, depicting different kinds of law enforcers.
/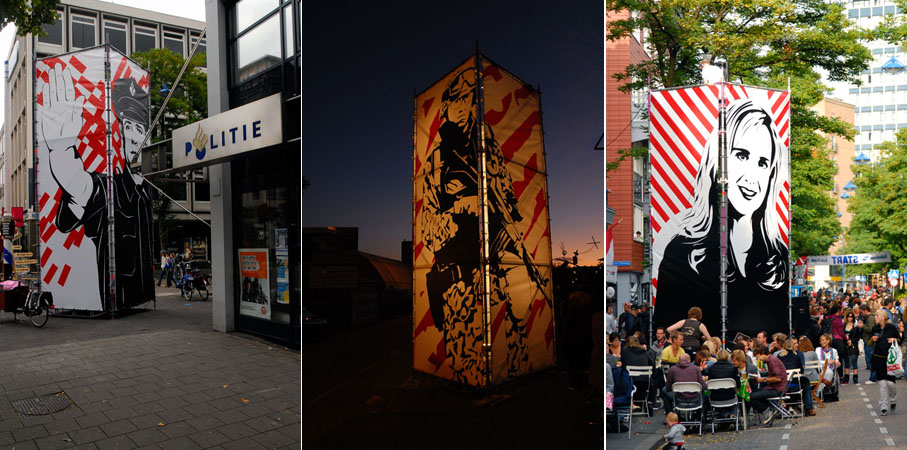 On the festival:
The arts and cultural festival World of Witte de With is an annual event that started in 1999 and takes place in the second weekend of September in Rotterdam. The idea of this festival is to make festival audience more interested in arts and culture. The art that is presented on the street invites the audience to visit the various art institutions and experience the effect of art.