The Work: Concept and Curator w/ SARATIMNTRUST
at the Kunstvlaai in Amsterdam

Together with my fellow artists at SARATIMTRUST, we presented a site-specific installation with the work of photographer Danielle van Ark.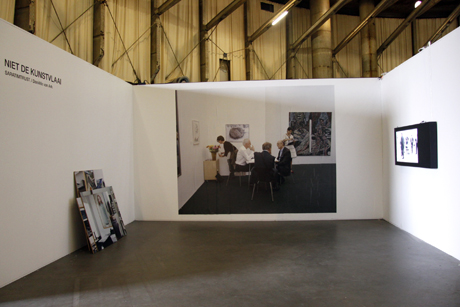 With 'NOT THE KUNSTVLAAI', we wanted to balance on the thin line between the commercial and independent art world. Van Ark's serie "What's the Big Deal Anyway?" proved to be the perfect fit to our plans.
The installation is a trompe l'oeil of an Art Fair booth on an event that thirteen years ago was initiated as an antithesis for -at that time thought of as too commercial- KunstRAI. (=The largest fair for contemporary and modern art in the Netherlands )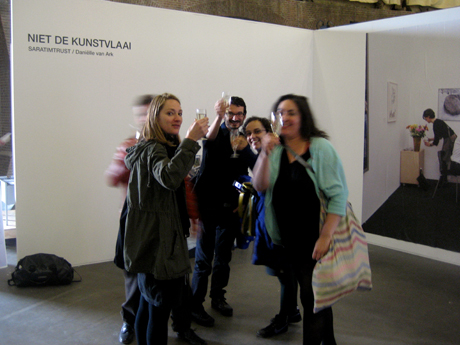 On Danielle van Ark:
In her work observation and registration of interpersonal relationships, particularly in certain scenes or (sub-)cultures, is a constantly recurring theme in both her photography and video work. Her subject matter is often found in places where she actually has no business being in, worlds that are completely foreign to her. Some examples of this include the celebrity culture of pop stars and paparazzi, or museum directors' offices. The cult-like atmosphere of international galleries, their clients, and contemporary art is another subject that fascinates her, and the two series For Art's Sake and What's the Big Deal Anyway? are a result of exploration of this territory.
//www.daniellevanark.com/
//www.kunstvlaai.nl/