The Work: Curator / Director at Blaak10 Academygallery
The Place: April 21st till June 4th 2006/ Blaak10/ Rotterdam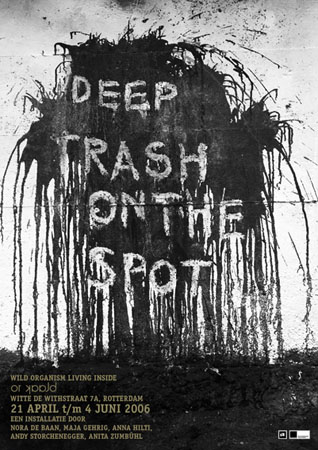 After seeing and experiencing their work I invited this group of multi disciplined artists from Switserland and Liechtenstein to make a joined work at the Academygallery. This Work In Progress turned out to be more and bigger than expected.
/
Using the abandonned material they found on the Rotterdam street, these 5 artists were building up trashtown. An exhibition that moved and transformed itself.
You 'had' to be there, to experience it properly…I can only describe is as a architectual urban fairytail labyrinth parcours that grew out of proportion during the 6 weeks it and the resided at the gallery.
This installation took you back to your childhood, building HUTTEN with any material you could find. A safe haven where you could be overwhelmed in your imagination and to protect you from the adult world of responsibility and reality.
/
Deep Trash On The Spot BLOG